The female pelvis is unique due to the inseparability of its structure/function. Comparatively, a woman's pelvic joint surfaces are flatter than a male's and, therefore, more easily moveable. A woman's pelvis is wider and more easily torqued and traumatized. Every month when a woman experiences her menstrual period, relaxin is released in her system, slacking her ligaments and making her more prone to trauma.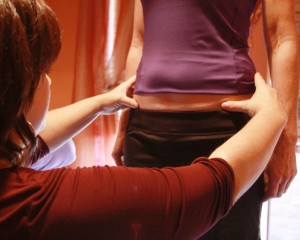 Our bodies contain more than 70-percent fluid, and the fascial system is the container and transport medium of our fluid. A person should receive myofascial release soon after trauma, childbirth or surgery—otherwise, the fascia's ground substance begins to dehydrate, creating enormous pressure on pain-sensitive structures all the way down to the cellular level.
Science has not paid any attention to the environment of every organ, duct, blood vessel, nerve and cell, the fascial system. All of our organs are fascial structures that ideally are capable of expanding and contracting. As you know, the bladder is a hollow organ that should be capable of expanding and contracting to hold fluid (urine) for a prolonged period of time. Fascial restrictions from trauma, scars and/or the delivery process can exert crushing pressure upon the bladder, creating the symptoms of frequency, urgency and/or incontinence.
Many times fascial restrictions will adhere to the bladder and the urethral areas creating the environment for infection, since fascial restrictions impede proper elimination of toxins and waste products from the tissues. If the fascia tightens around the bladder, it can limit the bladder's potential to enlarge sufficiently, creating the need to urinate frequently or painfully. When a woman coughs, sneezes or laughs, urine will tend to seep out since there is no give to the bladder. Inflammatory processes, such as endometriosis, can cause the fascial layers to adhere to adjoining tissue, creating pain and symptoms.
Original article Therapeutic Insight: The Myofascial Release Perspective—Women's Health, by John F. Barnes, February 2, 2012 in Massage Magazine Online