The premiere location in Central California for the
 John F. Barnes Approach to Myofascial Release  
 

MFR of Central California
(offices in Hanford and Fresno)
Barbara Long, PTA,MT
Barbara Long, Physical Therapist Assistant and Massage Therapist is an Expert Level Myofascial Release practitioner and is founder of  both Myofascial Release of Central California and the beautiful Soothe Your Soul Healing Center and Day Spa. As a PTA in King's and Fresno counties in California and in Sedona, Arizona since 1987, she has had vast patient care experience in a variety of traditional Physical Therapy settings from Inpatient hospital, Neurological Rehab, Home Health, and Private PT practices.
In 2003, Barbara decided to obtain a Massage Therapist certification in order to follow her passion for the holistic approach to healing: Myofascial Release. That year, she was invited to do per diem work at John Barnes' Western Myofascial Release Treatment Center/ Therapy on the Rocks in Sedona, Arizona and began assisting John Barnes, PT nationally with Myofascial Release Seminars. 
With a unique and high level of therapeutic experience/artistry, Barbara is deeply passionate about her skills to offer a comprehensive treatment approach to alleviating symptoms and pain release.  She is very honored and excited to bring:
 the healing touch of  MFR and Sedona to Central California!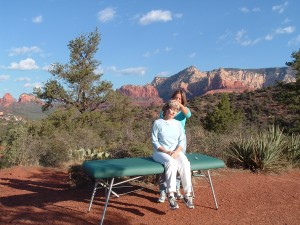 "My clients always ask me how I got interested in Myofascial Release. My healing journey began in 1983 after a very traumatic MVA in which I sustained punctured lungs, bilateral femur fractures, hip, pelvic, and rib fractures. I literally 'woke up' from a 12 day coma and 'knew'  that I wanted to become a physical therapist! Following the multiple fractures and surgeries affecting my leg, hip, and pelvis, my body healed and I was very blessed with a very functional recovery. I did experience many post traumatic stress complaints and physical symptoms of persistent pain and tightness that progressively increased over time .

During my first MFR Seminar for professionals in 1990, I felt enormous physical and emotional freedom in my body after being treated by other beginning students in the class. That day I knew that this work was what my body needed!"

Barbara Long, MT/PTA, JFB-MFR Therapist
"And the day came when the risk to remain tight in a bud was more painful than the risk it took to blossom"